What's the Difference?


For over 7 years, Mirror Image has pursued the ideal of recovering all the artistry and emotion embedded in great recorded musical performances.

Our goal is audio reproduction with a live and tactile quality which envelops the senses and places the listener into a unique and dimensional moment. The inspiration for our products flows from a desire to accurately convey not only the details and dynamics of music, but also its passion, poetry, grace, grit, hope, daring, and timelessness.

The creation of Mirror Image components is an organic process involving thousands of subtle comparisons and judgments. Circuits and models are fabricated and continually refined. Each element and its interaction with the whole is carefully considered always referenced to the musical ideal. The overall and distinctly noticeable effect has been to make listening to music more enjoyable and another step closer to realistic. For music lovers that may be all that needs to be said." "It is time for some serious listening to be done. I am not going to give you a litany of recordings to try to show off some specific aspects of this newest Mirror Image creation.

That is not where the appeal of this music reproducer lies. It lies in making your experience with listening to a favorite recording more satisfying than ever before. The fact that it has a tad (a southern word meaning a little bit or definite hint) more bass fullness, richness and power in the mid to upper bass is only a part of overall experience and does tend to reveal its vacuum tube heritage.

The audibly extended high frequency response has its own attraction at the same time being silky smooth and sweet while revealing even more inner detail. That is a really tough balancing act for an audio designer to successfully accomplish. It also appears to be more extended and very definitely adds the natural sensation or feeling of the recording location and strong hints of its size! That is probably at least partly responsible for the added detail as is the seeming lack of background noise.

The Mirror Image Aemulus tube preamplifier embodies our philosophy of fidelity to the art, ably enhancing any high quality music system. It is an enduring composition and the overture to a symphony of fine components. Maestro!

Enjoy music, enjoy life!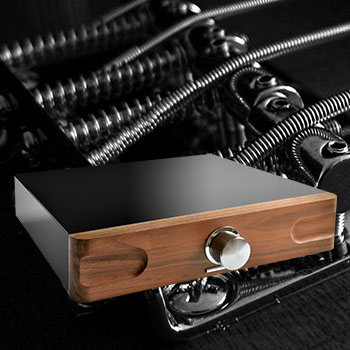 Aemulus
The Mirror Image Aemulus represents a new benchmark in high-end preamplifier design.

Whether it is the advanced circuit topology including tube power supply regulation, hall-of-fame parts quality, meticulous craftsmanship, comprehensive features, intuitive and convenient ergonomics or, most of all, its impeccably lifelike and neutral sonic character, the Aemulus has no peers.

Specifically, in the area of sonics, the Aemulus has achieved an unprecedented degree of tonal neutrality, harmonic correctness, lifelike dynamics, uncolored frequency extremes and above all else, exhilarating musicality.

Rarely has there been an audio component which strives, in all facets of its design, to break new ground, to be revolutionary rather than evolutionary. The Aemulus is just such a product. No other preamplifier takes each design parameter to its limit like the Aemulus.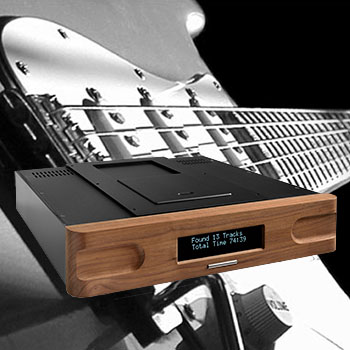 Charisma
The Charisma sets the ultimate technical standard for CD playback. Cutting edge technology combined with a proprietary drive system form the technical basis for providing a musical experience of the highest order. The drive in a CD player provides complete decoupling of the pick-up system, in this case the laser, from any mechanical interference by the motor drive. As a result the data on the CD is read with ultimate precision, translating into the decoding of the smallest musical detail as well as complex acoustic structures. Add to this the latest generation of DA conversion and you know that you will miss nothing on a recording: Spatial resolution, musical timbre, airy highs and deep, controlled bass.

The design of the Charisma CD player is an expression of Mirror Image philosophy: understated elegance combined with cutting-edge technology and highest-quality manufacturing in a rock-solid housing. The massive construction of the Charisma enclosures completely isolates sensitive electronics from mechanical or acoustical interference. In short, the Charisma CD player is visually and sonically a world-class performer offering unlimited musical enjoyment.

The only player topping this performance is the Charisma with a dedicated power supply. It sports extremely powerful transformers, which rigorously separate the currents supplied to the digital and analog sections.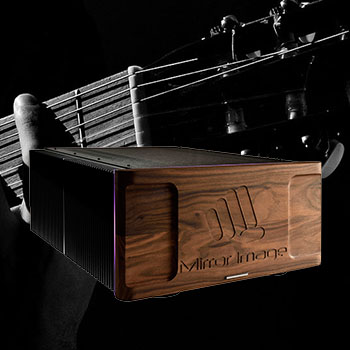 Sapphire
Music lovers who own or have heard Mirror Image products realize these components are unique statements about our passion for music and devotion to the audio arts.

Each design is created with the sole purpose of advancing the quest towards a palpable and captivating music experience. Only when we have achieved this goal do we release a new product.

The performance of the Mirror Image Sapphire tube power amplifier transcends its understated look of elegance and simplicity. Its technical accomplishment cannot be assessed through a listing of its parts or circuit details, and its dynamic drive capability is belied by its modest 40 watt power rating.

This is a component that must be heard to be understood. Audition the Mirror Image Sapphire and you will discover a true gem of uncommon beauty, clarity, and magical musical presentation.
Dynamic Solutions, Westkanaaldijk 18, 3606AL Maarssen, tel +31-621593460