About EAT


Music is why we are here. Everything is music and music is everything.

You cannot touch music but you feel it when your heart is open to it. There are many different styles of music. When you are young, you respond by instinct. Maturity however, brings with it the ability to understand one or more of the myriad genres, and the need for maturity is fulfilled when you start to feel the message that the music wishes to reveal to us.

Music tells us the stories that we need to hear in any given time. Music makes our lives richer, more meaningful and more substantial. All European Audio Team high performance products have been designed to bring us as close as possible to the meaning and spirit of the original composition and performance. We become a part of the performance.

Music transcends the boundaries of language and culture. It is communication with one's soul. We invite you to experience the delights and revelations of music through components created by those who love music as much as you do..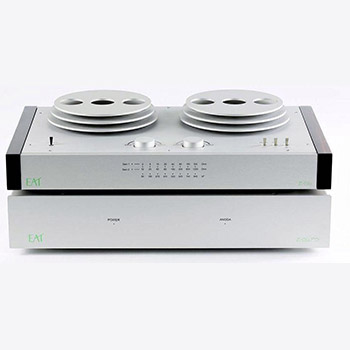 EAT E-Glo
E-Glo is an all-tube design completely free of semiconductors in its signal path. Its tube complement consists of the classic glassware beloved of audiophiles: four ECC83s and two ECC88s. The use of these valves will ensure that supplies of replacement tubes are always readily available, while experimentation is encouraged for those who love to fine-tune the sound of their systems by changing tubes, such as EAT's premium offerings.

In the fully-balanced input stage, we fitted a Lundahl step up transformer with an amorphous core, type LL1932. The unit's gain is 45db, plus the voltage gain of the step-up transformer. E-Glo's amplifier section uses split, fully passive equalisation, without any equalisation in global negative feedback loop, which can harm the sound.

At this level of performance, only the best components will suffice. The choice of output capacitor is the highly-praised Mundorf. All other capacitors are WIMA. Mundorf Connectors with Teflon insulation have been chosen for their unparalleled integrity. To ensure the utmost flexibility, to ensure perfect matching to a wide range of cartridges, the E-Glo provides capacitance loading for moving-magnet types in six user-switchable steps from 47pf to 900pF. "The loading resistance for moving-coil cartridges is continuously adjustable", says Lichtenegger, as we already have on our Phono Box RS.

Ensuring quiet operation is the use of an external power supply, connected to the E-Glo via a special 9-pin connector, familiar to those who recall the legendary Cello Palette preamplifier. Its heart is a custom-made toroid transformer. The transformer features double shielding between the primary and secondary windings. This avoids the intrusion of RFI, while acting as superior mains filter.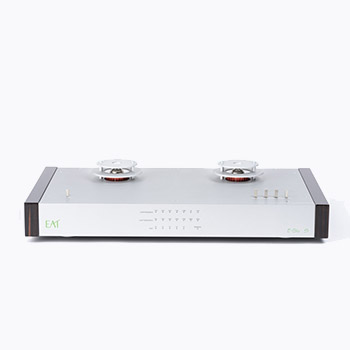 EAT E-Glo S
Elegant high-end tube phono pre-amplifier with ultra slim design!

E-glo S is a hybrid phono preamplifier that utilizes ECC83 tubes (twin triode) in the first and second gain stages In order to get higher gain and lower noise we use in the first stage a cascode connection of tube with with two paralelly connected low-noise J-FET transistors.

RIAA curve is equalised fully passive and splitted in two steps which allows to achieve perfect impedance matching between the gain stage and equalization block. Phono preamplifier doesn't have any global feedback. It has a massive aluminium chassis, large possibility of adjusting the impedance, capacity and gain. It has subsonic filter with mild effect which doesn't affect audible frequencies in unpleasant way.

A very important part is the advanced power supply that uses anode voltage regulation and a well filtrated voltage. Filtration is in three steps, this result is a perfect S/N ratio and undisturbed musical experience.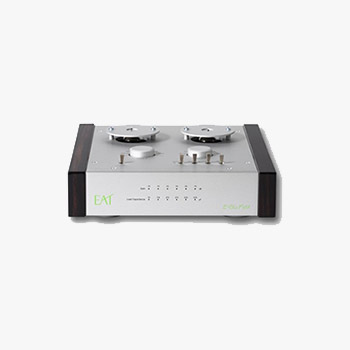 EAT E-Glo Petit
Elegant high-end smaller sibling of the award winning E-Glo S!

E-Glo Petit is the small sibling of the highly acclaimed and award winning E-Glo S. With its fully discreet, OpAmp-less design, we were able to achieve an outstanding sound in a small and compact form factor. Stunning dynamics, a clear midrange and high resolution definition is what makes E-Glo Petit punch way above its weight.

Hybrid tube design with 12AX7 tubes
MM & MC capability
Precise RIAA equalisation
Adjustable impedance and capacitance
Subsonic filter switchable
Fully discrete circuitry
Advanced power supply
Aluminium casing with wooden side panels

With our special designed power supply we enabled the tubes to stay "hot" at all times. That ensures that they perform at their maximum during the entire listening session. We have put a lot of time and effort in getting the power supply just right for E-Glo Petit. As we believe it is a critical and important part of the signal path. Therefore we designed it to be regulated and well filtrated for better performance of the complete package. With the use of very special low noise J-FET transistors of the type 2SK209 in a quad-setup, E-Glo Petit reached its incredible and unique Signal to Noise Ratio of 87 decibels. No other tube phono preamplifier on the market is even getting near those results.

Dynamic Solutions, Westkanaaldijk 18, 3606AL Maarssen, tel +31-621593460